*
I love the process of writing a weekly gratitude list, as it ensures I consciously take in the small, but lovely things that happen every day.  Then, they are immortalised here on the page, so I will always remember.
This week I have loved;
Watching Baby enjoy her new bedroom.
My H&M haul for Baby.  Such pretty things and I really shouldn't have, but I did!
That every time Baby sneezes she says 'Achoo'.
Gaining over 2,000 Facebook likes.
My wonderful blogging friends, who have supported me and helped me to focus.
That I lost 8lb (and 14″!) on my first week of Diet Chef and found it easy to do and stick to.
That I am at BlogCamp today!
Watching Baby run round the soft play area like a thing possessed.
My lovely hubby was so understanding, when I told him how much French night classes were stressing me out.  He squared everything and secured me Rosetta Stone instead.
So what are you grateful for this week?
I am linking up with This Enchanted Pixie's 52 weeks of gratitude,
The Happy Days linky and
PoCoLo with Verily Victoria Vocialises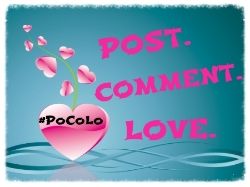 *Original Image: Jasper van de Meij
Join the VIPs for free help & support
Make your blogging dreams come true
Congratulations! You're in!