I love writing a weekly gratitude list, as it ensures I consciously take in the small, but lovely things that happen every day.  Then, they are immortalised here on the page, so I will always remember. 
Wow, I can't believe that this is my twenty first gratitude list.  I truly believe that counting my blessings every day really helps to improve my positivity.
This week I have loved;
Baby learning to say towel,  it was really cute when she just came out with it.
My blog won an award (Best Non-Dad Blog of 2014 in the LoveAllDads Annual Awards).
I moved up to 91 in the Tots100 rankings.
Playing 'Grab the Baby' as she is walking past.  She thinks it is hilarious!
Attending BlogCamp last weekend.  I love spending time with other bloggers and soaking up the information.
Losing more weight on Diet Chef, 13lb in two weeks isn't to be sniffed at.
Being thoroughly spoiled at Bicester Designer Outlet Village for a blogging event.  AMAZING!
Baby had her first late night, staying up after her bed time.  I was so worried about how she would cope.  However, I needed have worried!  She was a superstar at the event, slept all the way home, barely stirred while I changed her clothes and went straight down in her cot, waking up at her normal time!
So what are you grateful for this week?
I am linking up with This Enchanted Pixie's 52 weeks of gratitude,
Verily Victoria Vocialises #PoCoLo and
Let's Talk Mommy's Share with Me linky.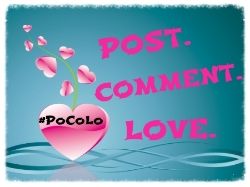 *Original Image:
Ruxandra Mateiu
Follow Me!
Join the VIPs for free help & support
Make your blogging dreams come true
Congratulations! You're in!