Late in 2013 I was diagnosed with PND, for the first time in my life I was experiencing stress and anxiety.  For a number of reasons CBT group sessions are not for me, so I thought I would take control of my own feelings and find ways to smooth out the things that cause bumps in my road. In my working life I am super organised, however, this is sadly not the case in my home life.
As primarily a SAHM, I spend a lot of time at home with Baby and face daily stresses, many of which could easily be avoided.  I spent some time identifying the factors in my environment, which I know can cause me stress.  Then I found a solution to organising them, making these areas work better in my life.
Organise our coat/shoe cupboard – We seem to have an extraordinary amount of coats, meaning our coat and shoe cupboard was basically a nightmare!  I could often find one of Baby's shoes, but alas not the other one.  So frustrating when you are trying to leave the house. Coats would never stay on the hooks, as they were over laden.  So, I worked a bit of organisational magic and transformed it.   I used elastic bands to keep together shoes that we don't use that often and bull dog clips helped pair up our regular shoes.  All coats are hung on hangers and all our woolly hats and scarves are together in a bag for life, which is hung up.  I found an unused tie rack hanger and used it to keep all of my scarves together (cotton ones).  Although it will never be a minimalist's dream, I think you will agree it is much more organised.
Plan outfits for the week – I love dressing Baby, but often she is quite uncooperative and I find it stressful finding an outfit, co-ordinating it and trying to stop her wreaking havoc, while I am doing so.  My solution was to spend 15 minutes on a Sunday afternoon, while Mr Hubby has Baby, to get 5 outfits together and put them together in a certain place in the wardrobe (top right for me).  This really helps speed up our morning routine.  To keep the outfit parts together, I have also started to use ring pulls to convert a single hangers to a double hangers.
Plan the week's activities in advance  –  I find I waste time procrastinating each morning, trying to decide what to do.  Deciding on, even a simple trip, means I don't have to give it any thought, especially if I have a fractious toddler to contend with.  We know what our plan is for the day when we wake up and so our days runs much more smoothly.
Manageable to do list every night  –  I have learned over the years to be more realistic with my to-do lists.  Only write down the things which must be accomplished on a certain day, not everything you need to do (keep a separate list for those things).  Otherwise you will feel as if you have failed and will end up re-writing half the list on the next day.
Organise the little things – I waste a lot of time searching for all kinds of things, which causes inevitable stress.  Here are a few ways I have organised various areas in our house.
I have organised wrapping paper in a garment carrier and it simply hangs in a wardrobe / Collection of cards (makes those 'surprise' birthday less of a worry / I haven't got a desk and work on the couch, so I utilised a cotton bag to keep all my diaries and planners together, meaning I always have what I need to hand / I organised our nightmare kitchen drawer, using a storage box and an egg carton / I popped some shoe boxes in the drawers in Baby's room to make it easier to keep things tidy (Oh and I found out she has 32 pairs of tights! oops! / I utilized zip lock bags (4 for £1) to hold all puzzle pieces together and reduce the number of boxes we have around the house.
 My new mantra!
Daily tidy basket – I implemented a process of putting all homeless things I found during the day into the basket, then just before Baby goes to bed have a quick run round re-homing the contents.  This prevents multiple piles developing around the house.
Organise my thoughts – If you are a regular reader you will know I write a weekly gratitude list, which is a process I love, as it keeps my mind focusing on the positives.  I have taken this one step further and joined the 'Embrace Happy' Facebook group, which encourages you to share 3 good things every day and also write them in a journal.
Do you find clutter stresses you out?  Do you have any top tips for organising your house?
Title image – photo source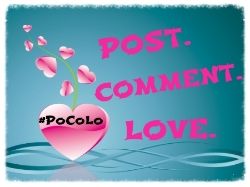 Join the VIPs for free help & support
Make your blogging dreams come true
Congratulations! You're in!