It's Friday, so it's time to link up with the lovely Jocelyn from The Reading Residence and decide on my Word of the Week #WotW.
This week my word is;
On Saturday I travelled to Blog Camp in Birmingham.  It was the first time I had left baby for more than a few hours, so I was a little apprehensive.  I had arranged to meet the very lovely Kirsty from Hijacked by Twins at the station.  It was fab to see a friendly face and meet my first real life blogger!  I have been blogging in my own little world for 8 months and it is great to meet others who do the same as me and understand what it is all about.  We also met up with Em from Snowing Indoors and Emma from Cheltenham Mama Scout, I think I met kindred spirits.  The sessions were really useful and I met the writer of my biggest blog crush, Fritha from Tigerlilly Quinn.
As I have mentioned previously, we have had builders in our house this week.  So, on Sunday Baby and I travelled up to North Wales to stay with Baby's Aunty and Uncle.  I was worried about travelling such a distance, on my own with Baby, but she was a star.  On the way up she ended up sleeping for the first half of the journey.  It was very strange being away from Mr Hubby, but Baby adjusted really well and just rolled with it, bless her.  On our second day there Baby did her own travelling by taking two more unassisted steps!.
Baby's Aunty had a day off on Tuesday, so we travelled to Liverpool to do some shopping and see the sights.  I used to go clubbing in Liverpool when I lived up North,  but I have never been to Liverpool One.  Wow!  I walked around amazed, I have never seen a shopping centre that is so aesthetically pleasing.  It was really beautiful, I felt like I was somewhere on the continent.  The stunning weather obviously helped!
We strolled into the older part of town and did the sightseer thing!
Then yesterday we travelled home to see Daddy!
So that's our week in slightly more than a nutshell.
Which word sums up your week?`
Enjoy my posts? Why not
My previous words of the week have been Organised , Overwhelmed,  Blessed,  Active , Cuddles , Play-Date/Illness, Change,
Horrible, Indecision,  Achievement,  Preparation,  Lunch, Change, Shopping  and Contrast
I am also linking with #PoCoLo over at Verily Victoria Vocialises
and #BlinkyLinky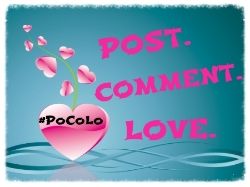 Join the VIPs for free help & support
Make your blogging dreams come true
Congratulations! You're in!